Polypress PL2
Screw press for citrus and pineapple peels and pulp
---
Possible uses
Pressing of citrus and pineapple peels and pulp for a further recovery of juice;
Pressing of citrus peels for the recovery of essential oil;
Pressing of the whole citrus fruit for the simultaneous recovery of juice and essential oil;
Drying of peels to be used as food for cattle.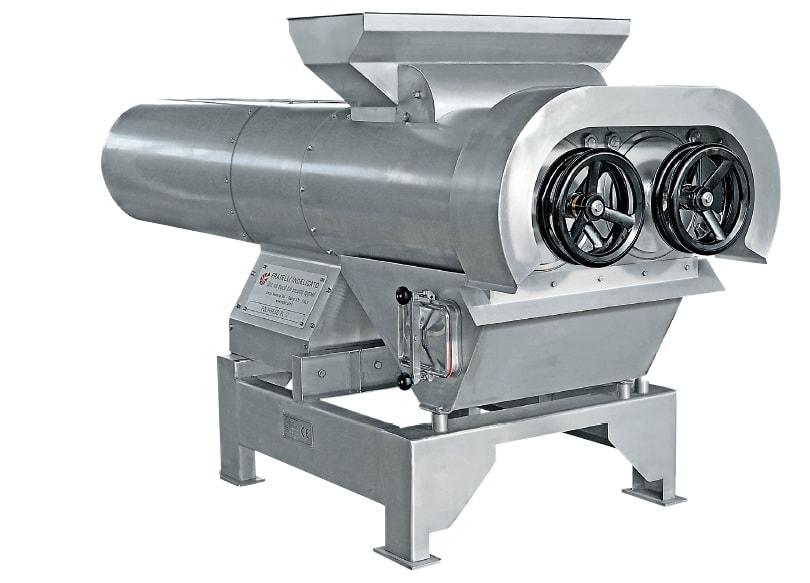 ---
Dimensions
Length 1050 mm.
Width 2590 mm.
Height 1500 mm.
Height of the dry product outlet: 850 mm.
---
Technical data
All parts in contact with the products are made of AISI 304 stainless steel.
Provided with two screws working in parallel.
Speed of the screws regulable from 32 to 70 r.p.m.
Driven by 2 motor gear-boxes each 7,5 kW and controlled by two inverters.
External diametre of screws: 300 mm.
Internal diametre variable : 155 mm. to 224 mm.
Length 650 mm., pitch 140 mm.
Interchangeable cylindrical screens with standard holes: 3 mm.
Required power: kW 15.
Working capacity: 8000-10.000 Kg/h of citrus pulp or peels.
POLYPRESS PL1
: for the some applications we produce also the
PL 1
model, with a working capacity of 4000/5000 kg/h of citrus and pineapple peels or pulps.